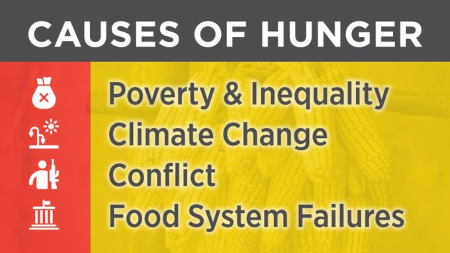 Dear GRANs,

The prevalence of severe hunger in the least-developed countries is worse now than it has been at any time in the past five years. The World Food Programme calls this an impending "hunger catastrophe" if action is not taken.
GRAN's Right to Food Campaign is inviting you to take action now through two opportunities below:

February 8 or 9: Learning and Action Together
Please join us for Global Hunger and Canada's Response, a webinar and letter-writing event co-hosted by GRAN, the Canadian Foodgrains Bank (CFGB), and ONE Canada. During the webinar, speakers will address three "why's": why the current global hunger crisis is called the worst in decades; why Canada's response is important; and why we are calling for an increase in support to women-led organizations in the Global South. The webinar will also include an action component – an opportunity to use an online "letter-builder" developed by CFGB to send a message directly to Canada's Minister of Finance, Chrystia Freeland.
The webinar is being offered twice: Wednesday, February 8th at 7:00 p.m. ET and again Thursday, February 9th at 3:00 p.m. ET. Choose the one that works best for you. Simply click on your preferred date to be taken to the correct registration page.
Right now: Action!
Don't wait. Please send a letter now to Canada's Minister of Finance, Chrystia Freeland, asking Canada to increase international assistance in Budget 2023 to respond to the escalating hunger crisis in the Global South, especially Africa. The Minister is making decisions right now about allocation of dollars, so this is a time-sensitive action with the Budget expected in March. We have created a letter template to help you write your letter. You can modify the template to make it your own, letting the Minister know why this issue is important to you. We have also created a background document that provides more information to help you compose your letter.

Along with our partners, we want to flood the Minister with emails and letters in advance of the Budget. So please send your personal email (or letter) to the Minister right away and then plan to attend the webinar on February 8th or 9th, where you will have the opportunity to follow up with a second letter using the CFGB's letter-builder.

Let us know you've sent your letters by cc'ing info@grandmothersadvocacy.org. Thank you for your support for this very important issue.
Linda and Pat
GRAN Co-Chairs
http://grandmothersadvocacy.org