"In 2023, no child should be born with HIV, and no child should die from an AIDS-related illness." -- Peter Sands, Executive Director of The Global Fund.
And yet...
Currently, around the world, a child dies from AIDS-related causes every five minutes.1
One of the most glaring disparities of the AIDS response to date has been the failure to provide life-saving treatment to children and adolescents living with HIV. Just half of children living with HIV are on life-saving antiretroviral treatment, far behind adults, of whom fully three-quarters are being treated. 4% of people living with HIV are children, yet they account for 15% of all AIDS-related deaths.2
Malnutrition and HIV
HIV infection and malnutrition interact in a vicious circle. Children living with HIV are more vulnerable to malnutrition and common childhood illnesses. This is because the virus compromises nutritional status, and poor nutrition further weakens the immune system, increasing susceptibility to opportunistic infections. Symptoms that accompany infections, such as loss of appetite, diarrhea, and fever, lead to further reduced food intake, poor nutrient absorption, nutrient loss, and altered metabolism. HIV treatment may be disrupted when dizziness and nausea make it difficult for hungry, underweight children to take their medication on an empty stomach. All these factors contribute to weight loss and faltering growth. In infants and children infected with HIV, undernutrition is one of the leading causes of death.3
Increased Nutritional Needs
The nutritional needs of people infected with HIV, both young and old, rise considerably, partly due to the body's inability to absorb nutrients, and partly because the body needs more energy to cope with the infection. A nourishing diet is vital to maintain a healthy weight, absorb antiretroviral medications effectively, and slow down the onset of disease.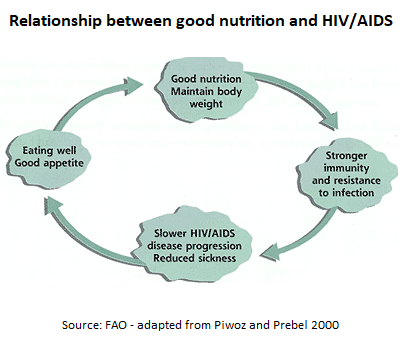 Mother-to-Child Transmission and Protection
More than 90% of HIV infections in children result from mother-to-child transmission.4 The virus can be transmitted during pregnancy, labour, delivery, or breastfeeding. Without intervention, 15 - 45 percent of babies with HIV-positive mothers will be infected.5 Transmission can be almost fully prevented (to a risk of 5% or less), if both the mother and the baby are provided with antiretroviral therapy (ART) as early as possible in pregnancy and during breastfeeding.6 With antiretroviral treatment in place, babies can benefit from the many protective effects of breastfeeding, including improved growth and development.
Reasons for Hope
In February 2023, twelve African countries with high HIV burdens joined The Global Alliance to End AIDS in Children by 2030. Its aim is two-fold: to ensure that every child living with HIV receives life-saving treatment by the end of the decade; and to prevent new HIV infections among infants and children.
The international health community and community-led organizations recognize the importance of integrating nutritional support and food security interventions into HIV programs. Interventions include individual nutrition supplementation for people with HIV, food parcels and cash transfers to affected households, and income-generation programs for those affected by long-term food insecurity.
Just this past Friday, Canada's Minister for International Development Harjit Sajjan, announced $84.6 million in funding to support the implementation of four new nutrition-specific projects in Africa and Asia in partnership with four Canadian aid organizations: Action Against Hunger, Children Believe, SickKids Centre for Global Child Health, and World Vision Canada.
Dig Deeper...
Mothers, babies and HIV: a story of INSPIRE – 7-minute video showcasing a World Health Organization project funded by the Canadian government that investigated best ways to help pregnant HIV+ women stay in treatment. The results showed that women supported by their peers – commonly known as "Expert" or "Mentor" mothers – had the highest chance of adhering to treatment, free from HIV.
[This is the sixteenth installment in GRAN's Small Sips series on The Right to Food.]
http://grandmothersadvocacy.org