GRAN has frequently referenced the Sustainable Development Goals (SDGs) in our campaigns. The SDGs are part of the United Nations' 2030 Agenda for Sustainable Development. In 2015 member states committed themselves to "work tirelessly" for the agenda's full implementation by 2030. The seventeen SDGs are the cornerstone of this ambitious global agenda. Sustainable Development Goal #2 addresses food and hunger.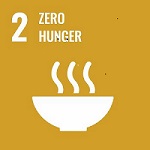 SDG #2: End hunger, achieve food security and improved nutrition, and promote sustainable agriculture.
To assess progress towards this goal, the UN has defined eight "targets" and thirteen "indicators". The targets are the specific goals to be achieved, and the indicators are the measures to track how close the world is to achieving the targets.
The eight SDG #2 targets are:
2.1 End hunger and ensure universal access to safe, nutritious, and sufficient food
2.2 End all forms of malnutrition
2.3 Double the productivity and incomes of small-scale food producers
2.4 Ensure sustainable food production and implement resilient agricultural practices
2.5 Maintain the genetic diversity in food production
2.6 Invest in rural infrastructure, agricultural research, technology and gene banks
2.7 Prevent agricultural trade restrictions, market distortions and export subsidies
2.8 Ensure stable food commodity markets and timely access to information
Dig Deeper…
If you are interested in learning more about this Sustainable Development Goal and the progress made so far, you can check out the online SDG Tracker. There you will find each of the eight SDG 2 targets explained in greater detail as well as an evaluation of how the world is doing to date in reaching them. World maps provided by the SDG Tracker indicate those countries most affected by undernourishment, food insecurity, and childhood malnutrition. African nations feature prominently when evaluated by these troubling metrics.
See you next week for our next Small Sip as together we learn more about hunger in the world.
[This is the second installment in our Small Sips series on The Right to Food.]
http://grandmothersadvocacy.org