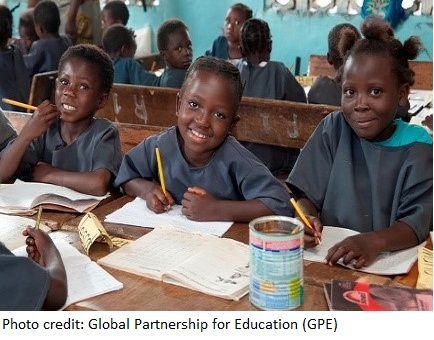 Thank you to all who attended GRAN's recent Learning Event – Write for the Right to Education. It was wonderful to see so many of you -- and we hope you are all finishing up your letters! If you missed it, click here for a link to the recorded event. You will need this pass code for access: W@Fr%!4i
As we learned at our Event, out-of-school children, especially girls and those who live in conflict regions, need us now. The COVID-19 pandemic has created the most severe disruption in the world's education systems in history.
At the peak of school closures, a staggering 1.6 billion children and young people have had their learning affected. The pandemic has intensified the economic and social barriers to education that girls face, including the risk of child marriage, teenage pregnancy, and other forms of gender discrimination and violence. The worsening plight of girls affected by conflict, crisis, and displacement makes up over half of those out of school and is deeply troubling. It is estimated that up to 20 million girls may never return to school.
We have a small window of opportunity to make a difference now. We can do this by advocating for an increase in Canada's commitment to the Global Partnership for Education (GPE) replenishment. We are hoping Canada will make a commitment at the G7 in June, prior to the GPE replenishment conference which takes place in the UK at the end of July.
GRAN supported the GPE replenishment campaign in 2017 when Canada committed $60 MIL/year. We can do it again! This time, we are asking for a commitment to $100 MIL/year for five years. More information on the GPE and the campaign can be found on our website here.
We have already begun to build support among MPs, but we need more parliamentarians on board to make it happen. Please add your voice by writing to your MP to ask them to support the GPE Replenishment.
At our Learning Event, we provided a template for a letter to MPs. It is available here, including contact info for your MP. Please also cc: the new Parliamentary Secretary for International Development, Maninder Sidhu, Maninder.Sidhu@parl.gc.ca .
Please let us know which MP you have written to by sending an email to grandmothersadvocacy@gmail.com so that we can track our advocacy efforts. If you use email to reach your M, you can simply bcc: the GRAN email address at the same time.
Thank you in advance for writing in support of education for this generation of children and youth.
Janet Siddall and Pat Dolan
GRAN Co-Chairs
http://grandmothersadvocacy.org
grandmothersadvocacy@gmail.com