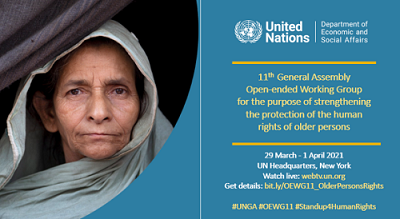 Dear GRAN advocates,
With every crisis comes an opportunity. Through horrendous stories of neglect and human rights abuses, the COVID-19 pandemic has exposed the impact of ageism and discrimination against older persons all around the world. COVID-19 is our wake-up call to rethink how we treat older people and to address the gaps in existing human rights legislation. Now is the moment to seize the opportunity to accelerate efforts towards an international legal convention to protect the human rights of all older persons.
This is not a new idea. Since 2010, discussions have been underway at the United Nations regarding the feasibility of a Convention on the Rights of Older Persons (CROP). But progress towards a Convention has been moving at a snail's pace. Further discussions on a Convention are set to resume at the UN in late March.
Canada has yet to support the call for a Convention on the Rights of Older Persons. We would like this to change.
In a recent open letter to Canada's Ministers of Seniors and of Foreign Affairs, GRAN's partner, the International Longevity Centre (ILC) Canada, set this challenge to our government:
"As our Prime Minister, in his speech to the Commons on April 11th, 2020 so eloquently proclaimed: 'Our job as Canadians is to uphold the dignity and sanctity of every single human life, whether they be rich or poor, young or old, ailing or healthy.' We challenge the Canadian Government to put ACTION to these words; to stand up and lead the world in protecting the basic human rights of every older person; to proudly enshrine the tradition earned by Canada as a global leader of human rights by supporting and leading the fight for a UN Convention on the Rights of Older Persons."
We are asking you to add your voice to this challenge. Please write a letter to Canada's Minister of Seniors Deb Schulte, and Minister of Foreign Affairs Marc Garneau, urging Canada's leadership on a UN Convention on the Rights of Older Persons.
To help you craft your email or letter to the Ministers, a template is available here, where you will also find contact information for the Ministers and a link to the ILC's original letter to the government. Please remember to cc: your own member of Parliament and also bcc: grandmothersadvocacy@gmail.com so that we can track our advocacy efforts.
If you would like to learn more about this issue, there are a number of resources available on the CROP page of the GRAN website. We suggest beginning with this excellent 10-minute video of Craig Mokhiber of the Office of the United Nations High Commissioner for Human Rights who makes a clear and compelling argument for why now is the time to demand a Convention on the Rights of Older Persons.
Let's all call on Canada to not only stand up and support a Convention, but to lead the world in ensuring the rights and dignity of all older persons.
Janet Siddall and Pat Dolan
GRAN Co-Chairs
http://grandmothersadvocacy.org
grandmothersadvocacy@gmail.com